Clash of the Aces! Ace of Games versus Ace of Study! is the 3rd episode of Future Card Buddyfight Ace and the 228th episode of the series.
Synopsis
Yuga challenges the genius prodigy Subaru to a Buddyfight! Subaru's Buddy who can see the future, Cross, predicts their victory, but Yuga continues the fight and is seemingly winning, until...
Video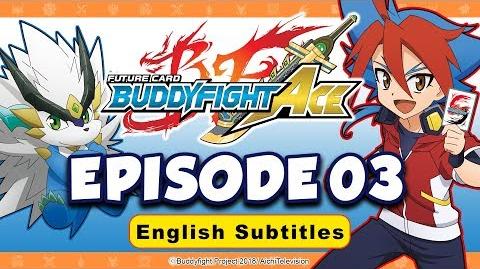 List of Season 5 Episodes (Ace)
#1 Deity of Combat! Gargantua Dragon!! ● #2 Friendship Battle! Yuga versus Ranma! ● #3 Clash of the Aces! Ace of Games versus Ace of Study! ● #4 The Transfer Student is the Ace of Sports! ● #5 It's Finally Begun! The ABC Cup! ● #6 Ranma's Wild Charge! I'm The One Who'll Win! ● #7 Mel's Adventures in Fairyland! Reverse Subaru's Curse! ● #8 A Deity Descents! Electrodeity of Light, Amaterasu! ● #9 Defend the Peace! Galaxy Exalt Cosmoman! ● #10 Win the Rematch! Yuga versus Subaru! ● #11 ABC Cup Finals! Yuga versus Masato!! ● #12 Who's the Academy's Best Fighter!? The Card that Decides Victory! ● #13 Lost World! Vile Demonic Dragon, Vanity Husk Destroyer! Part 1 ● #14 Lost World! Vile Demonic Dragon, Vanity Husk Destroyer! Part 2 ● #15 Get Stronger, Yuga! A New Beginning! ● #16 Shop Preliminaries Begin! Samurai versus Ninja! ● #17 Checkmate!! Ace of Study versus Chess Genius! ● #18 Our New Ally? A Non-Evil Da-Dan?! ● #19 The Vile Ranma Channel Debuts? Return of Lost World! ● #20 Target: Miko! A Kidnapped Cat?! ● #21 Yuga and Banjoe! A Fiery Fight!! ● #22 Masato or Kanesada? Shop Preliminary Finals! ● #23 The Second Round begins! A Challenge from Vile Ranma! ● #24 Mage Garga! A Magic World Buddyfight! ● #25 The Third Lost World Fighter! Enter the MAX Dragons! ● #26 A New Lost World Ally! ● #27 The Secret Origin of the Linkdragon Order! Get Stronger, Agito! ● #28 One Shot Victory! Gattling Mode! ● #29 I'm going to play too! Buddyfight! ● #30 Who Will Win? Subaru Versus Masato! ● #31 The Guardian of Order, Eden Hanazono! ● #32 Major Evolution! Vile Demonic Deity Dragon, Vanity Epoch Destroyer! ● #33 Light Kurouzu! Battle of Destiny! ● #34 Da Dan Rebels! The Forbidden Coup D'Etat! ● #35 Garga's Major Evolution! Activate, Deity G.Evo! ● #36 Unhappy! Vile Ranma versus Rei Urameshi! ● #37 Final Battle! Masato versus Daijirou! ● #38 Come Back, My Friend! Casting a Spell with a Wish! ● #39 Ace Buddyfighters, Assemble! ● #40 Vile Demonic Husk Deity Dragon, Vanity End Destroyer! ● #41 Who Will Use It? The Anti-Lost Weapon! ● #42 Final Battle! Yuga versus Vile Ranma! ● #43 Let It Loose! Deity Creations Fangflare, Gargantua Punisher!