"
The usually strong monsters get an infinite power-up with armor and weapons! They are known as the Armorknight Monsters!
"

—Armorknight Red Dragon's flavor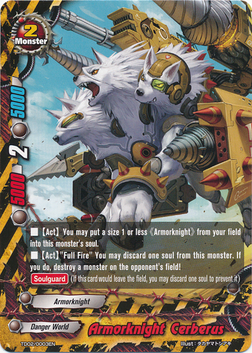 "Armorknight" (アーマナイト Āmanaito) is an attribute given to cards themed around heavy armory, in addition to several monsters being themed after creatures from various folklores. It is currently unique to Danger World.
Although almost all monsters in this attribute have "Armorknight" in their card names, it should not be confused with it being an Archetype.
Playstyle
Armorknights focus on beatdown strategies using monsters with higher than average stats, several of which sacrifice other monsters as costs for their abilities and call costs.
They get rewards from having the center area open and/or having 5 Life or less, and have a strong focus on the player having an Item equipped and making that item more powerful, often by adding cards to its soul.
List of Sets Containing Armorknight Cards
List of Armorknight Cards
Size 0
Size 1
Size 2
Size 3
Size 2
List of Armorknight Support Cards
Size 0
Size 1
Size 2
Size 2
Community content is available under
CC-BY-SA
unless otherwise noted.