"
To put it simply. I prefer the indoors. I have been sealed up for 2000 years after all, ha ha.
"

—Demon Lord, Asmodai's flavor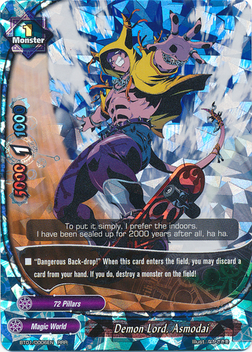 "Asmodai" (アスモダイ Asumodai) is an 《72 Pillars》 archetype.
Playstyle
While the effects of some of the current Asmodai cards do not relate directly to the series of card in general, all current forms of Asmodai activate their effects activate once they enter the field, and a cost must be paid in order to play them; whether it is their call cost or their optional cost of the effect once a specific "Asmodai" monster enters the field.
List of Sets containing "Asmodai" Cards
List of "Asmodai" Cards
Size 1
Size 0
Size 1
Size 2
Size 3
Size 2
List of Asmodai Support Cards
Size 1
Size 2
Size 3
Community content is available under
CC-BY-SA
unless otherwise noted.