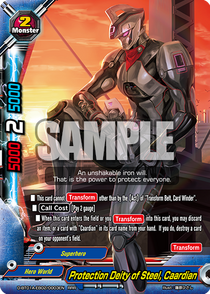 "Caardian" (カーディアン Kādian) is an archetype currently unique to Hero World.
Playstyle
All of the Caardian cards are meant to be the same monster, except in different 'battle forms' (similar to Gaigrander). The idea is that one uses whichever mode best suits their needs at whatever point in the game they are at. Their ability to return another Caardian to hand when using their item allows one to not lose the other card and possibly even transformed back into later. 
In contrast to Gaigrander, this does not have access to Counter Transform, which means one has to know which mode is best ahead of time and cannot catch the opponent by surprise. However, one can easily use the item to continually Transfrom from deck and bounce them back to hand, to build card advantage, which can help fuel Caardian abilities.
List of Sets with "Caardian" cards
List of "Caardian" Cards
Size 2
Size 3
List of Support Cards
Size 1
Size 2
Size 3
Trivia