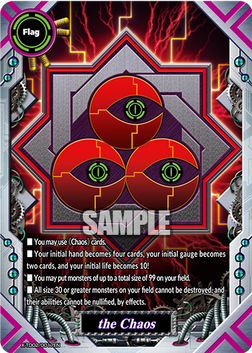 "Chaos" (カオス Kaosu) is an attribute. Cards with the Chaos attribute have an octagonal star - an irregular hexadecagon - containing three "eyes" on the bottom right corner of the card, though the whole shape is not present.
This is an antagonist deck from Season 4 utilized by Wisdom, CHAOS Gao and Mini Geargods.
Playstyle
By utilizing the Chaos' increased size capacity and the CHAOS Territory keyword, Chaos decks use a plethora of size 3 or greater monsters to fill the field. By enhancing the abilities of the monsters on the center position and calling a formation of four monsters, they can easily overwhelm the opponent while also defending themselves with a fortified center.
Additionally, some of the Chaos cards can be used as regular support for the normal Worlds they belong to.
List of Sets with Chaos Cards
List of Chaos Cards
Size 0
Size 1
Size 2
Size 3
Size 30
Size 90
Size 10000
List of Chaos Support Cards