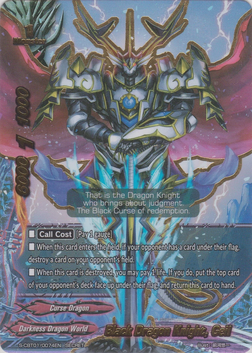 "Curse Dragon" (呪竜 Juryū) is an attribute currently unique to Darkness Dragon World.
List of Sets with Curse Dragon Cards
Playstyle
Curse Dragons focus on exterminating their opponent's cards in a unique way: putting them underneath their opponent's flag. This prevents the opponent from having access to their cards since those cards stacked under the flag cannot be accessed again through normal means, while also fulfilling the specific conditions of certain Curse Dragon cards. The attribute has ways to stall while they keep stacking more cards under the opponent's flag. Additionally, Curse Dragon cards use effects that require destroying their own monsters as cost to gain benefits, this is supported by using effects that recycle the monsters that were destroyed.
List of Curse Dragon Cards
Size 0
Size 1
Size 2
Size 3
List of Curse Dragon Support Cards
Size 1
Size 2
Size 3
Community content is available under
CC-BY-SA
unless otherwise noted.