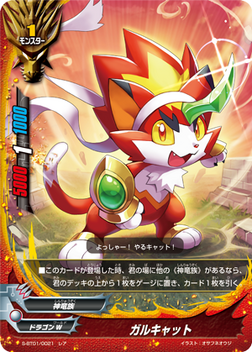 "Deity Dragon Tribe" (神竜族 Shinryūzoku) is an attribute.
Playstyle
The Deity Dragon Tribe are based around supporting Dragod monsters in multiple ways, often by generating resources to help the player setup their field or by making the Dragod monster more powerful.
Deity Dragon Tribe are present in multiple Worlds, and the way they function varies depending on which World they belong to, but regardless of World they keep the theme of supporting the Dragod monster and finishing off the opponent with a powerful Impact card.
In Dragon World, they focus on granting the Dragod additional protection and effects so it can attack uninterrupted. They also have several effects that increase the player's life and generate resources after gaining life.
In Katana World, they use effects that discard cards as cost alongside cards that have alternate effects which activate upon being discarded. The Dragods then can produce "clones" of themselves to do more attacks.
In Magic World, they focus on using multiple spells and gaining benefits from doing so. They use effects that activate when the player cast a spell. Some of their effects also require sending spells in the drop zone back to the deck.
List of Sets with Deity Dragon Tribe Cards
List of Deity Dragon Tribe Cards
Size 2
Size 2
Size 0
Size 1
Size 2
Size 3
Size 2
Size 0
Size 1
Size 2
Size 0
Size 1
Size 2
Size 2
Size 2
Other
Size 1
Size 2
List of Deity Dragon Tribe Support Cards
Size 0
Size 1
Size 2
Size 1
Size 1
Size 1
Other
Size 1
Size 2