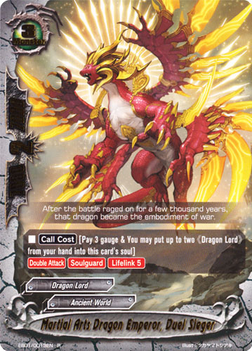 "Dragon Lord" (ドラゴンロード Doragonrōdo) is an attribute given to cards featuring a dragon(s).
Playstyle
Dragon Lords focus on controlling one very powerful size 3 monster through the entire game to overwhelm the opponent. Because their size 3 monsters have very high Lifelink numbers they have many ways to prevent their monsters from being defeated and/or replace them with even stronger versions.
The size 1 and 2 monsters in this attribute, instead of being used for attacking, are used as support "pseudo-spells" with effects that activate by discarding themselves when the player controls a size 3 monster, while the size 0 monsters act as "back ups" to help the size 3 monster take down threats.
List of Sets with Dragon Lord Cards
List of Dragon Lord Cards
Size 0
Size 1
Size 2
Size 3
Size 3
List of Dragon Lord Support Cards
Size 3
Size 3
Trivia