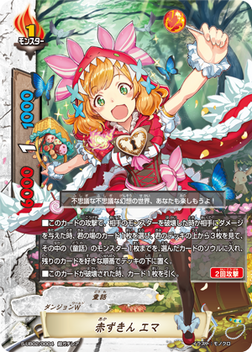 "Folktale" (童話 Dōwa) is an attribute currently unique to Dungeon World. It features monsters and cards that are mainly based off folktales and fairy tales.
List of Sets with Folktale Cards
Playstyle
Folktale monsters have effects that activate when they're destroyed. Some of their support spells destroy the player's own monsters to generate advantages, which in turn activates those monsters' effects. This works in tandem with the item Illusions Folktale, Echt Biblio, which sends destroyed monsters to its soul so they can be called again mid-battle phase, both for additional attacks and to defend the center.
List of Folktale Cards
Size 0
Size 1
Size 2
Size 3
List of Folktale Support Cards
Size 0
Size 1
Size 2
Size 3
Community content is available under
CC-BY-SA
unless otherwise noted.