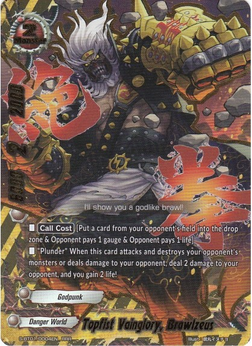 "Godpunk" (ゴッドヤンキー Goddo Yankī), is an attribute currently unique to Danger World.
List of Sets with Godpunk Cards
Playstyle
Godpunks bully their opponents by forcing them to pay the costs of their own cards, or by making them drop their hand. This makes it harder for the opponent to do their plays because the Godpunks keep taking away their resources. Some of their effects can also forcibly increase the opponent's Gauge so they can then use it to pay their cost. Godpunks also have effects that punish the opponent for having a low gauge.
List of Godpunk Cards
Size 0
Size 1
Size 2
Size 3
List of Godpunk Support Cards
Size 1
Size 2
Notes
Costs are not effects and are applied upon declaration of using the card. Thus, any of the opponent's resources (like life or gauge) that are removed due to a Godpunk's cost are removed before the opponent can even respond with anything.

Costs also cannot be nullified in any way.

Costs are mandatory in order for a card to be played. For example, if the cost is "pay 1 of your opponent's gauge", then the card cannot be played if the opponent does not have any gauge.
If the opponent has only 1 life, then any cards that include "pay 1 of your opponent's life" costs can be played. In that case, the opponent's life becomes 0.
Trivia
All monsters are named after Japanese slang/sfx and a creature/god from Greek Mythology, for example, Gachiares comes from Gachi, which is the SFX of a latch opening or a door with a lock, and Ares, the Greek God of War.
The Japanese name "Yanki" refers to a juvenile delinquent, also known as "Yankee" in the American language.
Community content is available under
CC-BY-SA
unless otherwise noted.