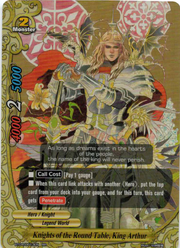 "Hero" (英雄 Eiyū) is an attribute that first appeared in Booster Set 1: Dragon Chief, but only received support as of Booster Set 4: Darkness Fable as one of the main attributes of Legend World.
The monsters of this attribute typically have effects that activate when they link attack in a similar vein to the Adventurer attribute from Dungeon World. The items typically have the Equipment Change keyword, allowing them to perform rather unique combos with items such as using a traditional weapon item to attack on your turn and switching to an item that helps you protect yourself on your opponent's turn.
As of X Booster Set 4, Heroes are now more focused on their items, with a higher composition of items in their arsenal and the key item that allows multiple items to be equipped at the same time, granting multiple attacks in one turn. They also included spells that work better with items and items that can act as pseudo-spells and monsters to ensure an unstoppable onslaught of infinite slashes on your opponent.
List of Sets with Hero Cards
List of Hero Cards
Size 1
Size 2
Size 0
Size 1
Size 2
Size 3
Size 0
Size 1
Size 2
List of Support Cards
Size 1
Size 2
Size 1
Size 2