"
They are those that have succumbed to evil ambitions, and betrayed their origin Worlds.
"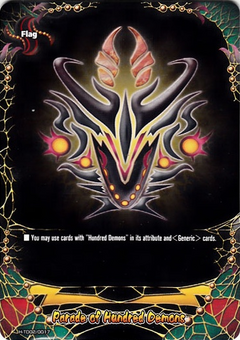 "Hundred Demons" (百鬼 Hyakki) is an attribute. All cards within this attribute have a red painted-like "鬼" within a circle at the top right corner of their artworks. All worlds except Star Dragon World and Lost World have at least one Hundred Demons monster.
They are the antagonist deck of Season 2 utilized by Ikazuchi and, in some form, by various other villains.
Playstyle
Hundred Demons generally focus on controlling the opponent's plays while pressuring them with damage, usually with cards that have high critical and burn damage.
Their main mechanic "Thunder Mine" help serves as a control and pressure aspect, punishing the opponent for making certain moves by dealing them damage. By complimenting this with various high critical and damage-inflicting cards, this puts the opponent on a "timer" of Thunder Mine damage, slowly suffocating all available plays until the opponent has nowhere left to run.
Additionally, many of the Hundred Demons can still be used as regular support for the normal worlds they belong to.
List of Sets with Hundred Demons Cards
List of Hundred Demons Cards
Size 0
Size 1
Size 2
Size 3
Size 0
Size 1
Size 2
Size 3
Size 0
Size 1
Size 2
Size 3
Size 2
Size 1
Size 2
Size 3
Size 0
Size 1
Size 2
Size 3
Size 0
Size 1
Size 2
Size 3
Size 0
Size 1
Size 2
Size 3
Size 0
Size 1
Size 2
Size 3
Size 0
Size 1
Size 2
Size 3
Other
Size 0
Size 3
Size 3
List of Support Cards
Size 1
Size 3
Size 0
Size 3
Size 1
Size 2
Size 2
Size 0
Other
Size 0
Size 3
Size 3