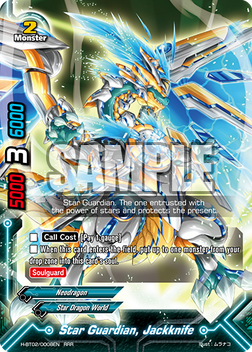 "Neodragon" (ネオドラゴン Neodoragon) is an attribute.
Lore
The Neodragons are the descendants of the Armordragons in a far-off future in which Dragon World has become a futuristic society called Star Dragon World. They have augmented their bodies with machinery to become dragonic cyborgs of sorts. However, this means that their bodies are susceptible to breaking down in which case they must undergo maintenance or else they will die.
List of Sets with Neodragon Cards
Playstyle
In Star Dragon World, Neodragons work alongside Dragonarms, which place themselves in the soul of Neodragons through the use of Crossnize in order to give that Neodragon new abilities. The more Dragonarms a Neodragon has, the more powerful and durable it becomes. In addition to Crossnize, Neodragons have multiple ways to put more Dragonarms into their souls to maximize their utility and prolong their longetivity.
List of Neodragon Cards
Size 2
Size 0
Size 1
Size 2
Size 3
Size 2
Size 3
Size 0
Size 1
Size 2
Size 3
Size 2
Size 3
List of Neodragon Support Cards
Size 0
Size 1
Size 2
Size 3
Size 2
Size 3
Size 0
Size 1
Size 3
Size 2