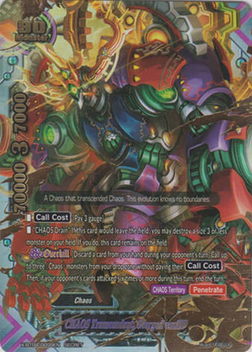 "Overkill" (逆天殺 Gyakutensatsu) is a keyword which allows a card possessing it to be activated by paying the cost under met condition to ruthlessly boost your fighting style. Its timing is similar to Counter.
See also Overturn, Overthrow, and Overkill:REBØØT.
Latest Reminder Text
[Overkill]

[Cost] (You may only use

[Overkill]

once per game.

[Overkill]

cannot be nullified, and your opponent cannot

[Counter]

it.)
List of Cards with Overkill
Size 2
Size 3
Size 3
Size 3
Size 3
Other
Size 90
Trivia
Community content is available under
CC-BY-SA
unless otherwise noted.