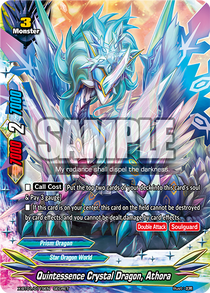 "Prism Dragon" (プリズムドラゴン Purizumu Doragon) is an attribute. This attribute marks a change in border design from previous Star Dragon World cards.
List of Sets with Prism Dragon Cards
Playstyle
Prism Dragons focus on calling Monsters to the Center that are difficult to take down to protect themselves from Damage. They use many defensive effects such as negating effect damage, protecting monster from destruction, increasing Defense, among others to ensure the opponent won't deal damage. Prism Dragons don't have much in terms of aggression so instead they retaliate with Burn effects after being attacked and Impacts that activate during the opponent's turn.
List of Prism Dragon Cards
Size 0
Size 1
Size 2
Size 3
Size 1
Size 3
List of Prism Dragon Support Cards
Size 0
Size 1
Size 2
Size 3
Trivia
Most Prism Dragons are named after some kind of alcoholic drink, in most cases a sort of wine, whereby the colour of the crystal matches the colour of the drink.
Community content is available under
CC-BY-SA
unless otherwise noted.