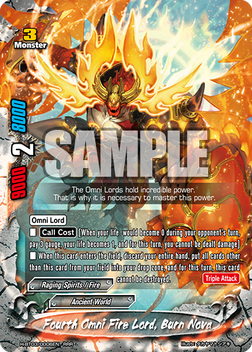 "Raging Spirits" (怒羅魂頭 Doragon Heddo, literally "Dragon Head") is an attribute currently unique to Ancient World.
List of Sets with Raging Spirits cards
Playstyle
Raging Spirits focus on an aggressive playstyle while using the redirect ability present on all but two size 3 Raging Spirits to keep the center open and use items without their drawback of being left vulnerable to direct attacks. This also effectively nullifies two of Ancient World's previous weaknesses, Penetrate and Shadow Dive.
List of Raging Spirits cards
Size 0
Size 1
Size 2
Size 3
Size 3
List of Raging Spirits Support Cards
Size 0
Size 1
Size 2
Size 3
Size 3
Trivia
The kanji "怒羅魂頭" can be translated as "Fury Spirit Head".
The official English name is because this attribute is not part of the Dragon trait despite its translation, since it does not have "竜" nor "ドラゴン" in its Japanese name.
The redirecting ability of the Raging Spirits is known as "Dragon Lord Stand of Courage" in the anime.
Errata
Because Burn Nova and his followers are actually a group of monsters, the English name of the attribute was changed to "Raging Spirits" to match the image.
Community content is available under
CC-BY-SA
unless otherwise noted.