This page is about the attribute. For the monster with the same name, see Shadow Dragon.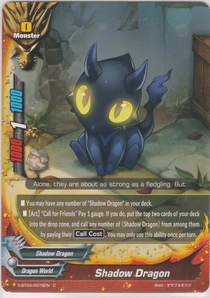 "Shadow Dragon" is an attribute currently unique to Dragon World. By accumulating multiple copies of Shadow Dragon in the drop zone, more powerful versions of 《Shadow Dragon》 monsters can be called.
It is utilized by Slide Kidoku in the anime.
List of Sets with Shadow Dragon Cards
List of Shadow Dragon Cards
Size 0
Size 1
Size 2
Size 3
List of Support Cards
Size 0
Size 1
Size 2
Size 3