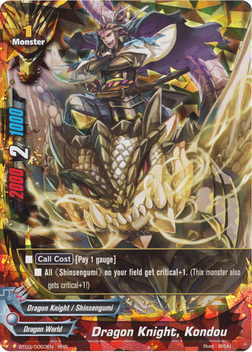 "Shinsengumi" (新撰組, literally "The New Squad") is an attribute currently unique to Dragon World, related with 《Dragon Knight》, and given to cards featuring samurai riding dragons. All of whom are based on famous historical members of the real-life police squad of the same name, formed during Japan's Bakumatsu period.
Several of them focus on having another 《Shinsengumi》 on your field to receive boosted stats or bonus effects, while all of the monsters are size 1.
Sets containing Shinsengumi cards
List of Shinsengumi Cards
Size 1
List of Shinsengumi Support Cards
Size 1
Trivia
Community content is available under
CC-BY-SA
unless otherwise noted.