"
My Dark Dragon enjoys destroying my opponent's monsters so much that their excitement carries over a little bit to take the life out of the fighter. I like to call it... "the Spectral Strike!"
"

—Davide Yamazaki, regarding Spectral Strike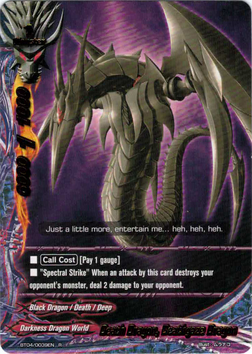 "Spectral Strike" (霊撃 Reigeki, literally "Spiritual Attack") is an ability name unique to the cards from Darkness Dragon World, which allows a card to deal a certain amount of damage written to the opponent when an attack destroys an opponent's monster.
Similar to Penetrate, Spectral Strike causes effect damage, not damage dealt by an attack. Also, it activates even if the destroyed monster is prevented from leaving the field by an ability.
It is marked by the text: "Spectral Strike": When an attack destroys your opponent's monster, do X. (Deal damage in general).
In the anime, Spectral Strike is depicted as a blue orb that emits from a destroyed monster. Which then attack the fighter.
List of Cards with Spectral Strike
Size 1
Size 2
Size 3
Size 1
List of Spectral Strike Support Cards
Community content is available under
CC-BY-SA
unless otherwise noted.