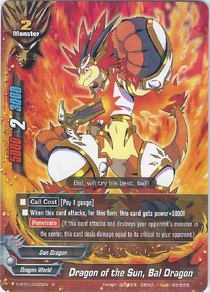 "Sun Dragon" (太陽竜 Taiyōryū) is an attribute.
Playstyle
Sun Dragons focus on taking advantage of the opponent not having a monster in the center. To help with this, they use destruction effects to quickly clear the opponent's center.
In D-BT02, they gained abilities that require them to send Sun Dragon cards from their drop zone into their deck in order to activate.
In D-BT03, they obtained abilities revolving around link attacking.
Sets containing Sun Dragon cards
List of Sun Dragon cards
Size 0
Size 1
Size 2
Size 3
Size 2
Size 3
Size 2
Size 3
Size 3
List of Support Cards
Size 0
Size 1
Size 2
Size 3
Size 2
Size 3
Official Decklists
Sun Dragon (X2-SP)

Monsters

Size 1

Size 2

Size 3

Buddy

Flag: Dragon World