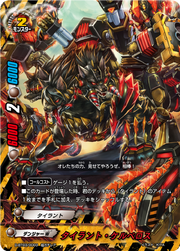 "Tyrant" (タイラント Tairanto) is an attribute.
Playstyle
Tyrants are known for freely manipulating their life to overwhelm their opponent with high critical attacks. They also have abilities and effects that are activated when gaining life or when they are at specific life totals.
List of Sets with Tyrant Cards
List of Tyrant Cards
Size 0
Size 1
Size 2
Size 3
Size 2
Items
Monsters
Size 1
Size 2
List of Support Cards
Size 1
Size 2
Size 2
Community content is available under
CC-BY-SA
unless otherwise noted.